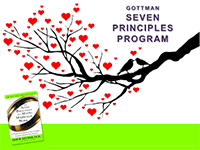 Based upon Dr. Gottman's book The Seven Principles for Making Marriage Work,The Seven Principles Program is a wonderful workshop for couples considering marriage or for couples looking to deepen their friendship and learn new conflict regulation skills.
Straightforward in its approach yet profound in its effect, the Seven Principles teach partners new and startling strategies for making their marriage work. For over 30 years Dr. Gottman scientifically analyzed the habits of married couples and established a method of correcting the behaviors that puts thousands of marriages on the rocks. He helps couples focus on each other, on paying attention to the small day-to-day moments that, strung together, make up the heart and soul of any relationship.
Is this workshop for me?
The Gottman Seven Principles workshop is designed for ALL couples in a committed relationship. Research shows that on average, couples wait six years from the first signs of problems before they seek help. It is designed to strengthen your marriage or relationship. If you have a strong relationship, this workshop will provide you with insights and tools to make it a great one. If your relationship is distressed, this two-day workshop will provide a road map for repair.
What You'll Learn
The Seven Principles workshop will give you new insights and research-based relationship skills that can dramatically improve the intimacy and friendship in your relationship and help you resolve conflict in a healthy, productive way.
At the workshop, couples will learn how to:
Foster respect, affection, and closeness
Build and share a deeper connection with each other's inner world
Keep conflict discussions calm
Break through and resolve conflict gridlock
Strengthen and maintain the gains in your relationship
If a couple is dealing with emotional, physical, or substance abuse, this workshop may not be appropriate. In these cases, please contact me for a referral for support services.
How Do I Sign Up?
Please contact me for the schedule of upcoming classes or to coordinate a personalized program based on the 7 Principles.
information and images adapted from the Gottman Institute